Colorado Springs Disaster Cleanup | Fire Damage Restoration Colorado Springs – Fire Repair, Smoke Damage & Emergency Fire Damage
We Will Work With Any Insurance Company
Colorado Disaster Cleanup Services is your first choice for Fire Restoration and Smoke Damage in the Colorado Springs area. Fire and Smoke Damage is an emotional and physical nightmare. The devastation from the fire can sometimes be months to completely repair the structure and contents of your home or business. Smoke odors present a difficult task as it goes deep into the structure of your walls and contents. While soot layers everything within the fires reach.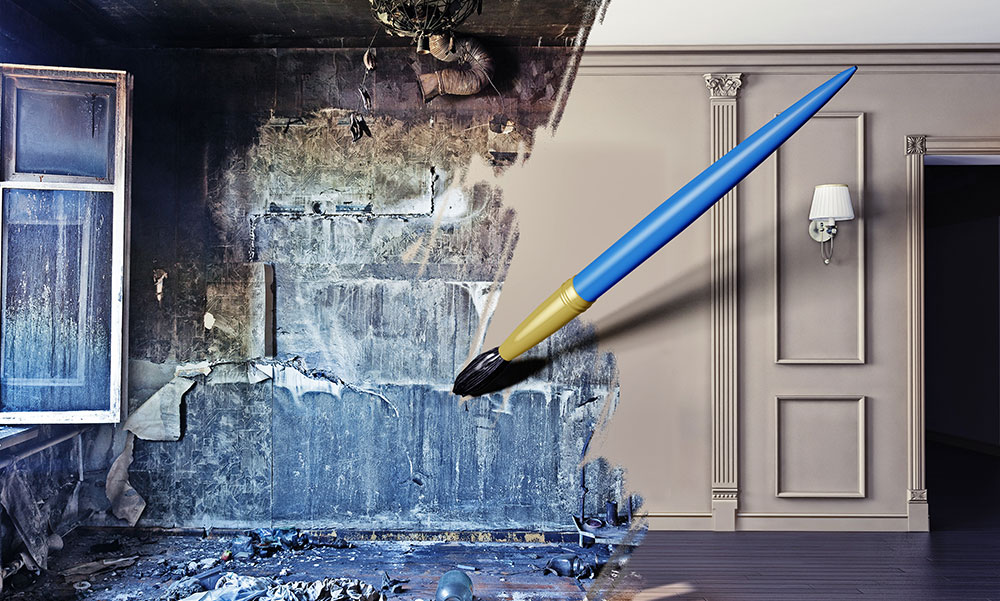 Colorado Disaster Cleanup Services has a team of experienced professionals who understand the proper drying, cleaning and deodorizing techniques of all varieties of carpet, walls, upholstery, flooring, fabrics and everything found in a typical home or business. We can quickly determine what can be restored, how to do it, and then get it done!
— Colorado Springs Disaster Cleanup —
Contact Colorado Disaster Cleanup Services in Colorado Springs Today to Help With All Your Immediate Needs
Colorado Disaster Cleanup Services serves residential and commercial smoke and fire damage restoration services from Fort Collins to Colorado Springs, including the entire Colorado Springs area.
The Damage to furniture and contents needs immediate attention. While on site, furniture and contents may continue to absorb odors and soot residues. Disaster Cleanup Services has the ability to professionally move your furniture and contents to our secure cleaning facilities where they can be inspected, cleaned, restored, or refinished to a pre-loss condition.
Cautions!
Do not enter the damaged site. Fires can rekindle from hidden, smoldering remains. Normally, the fire department will see that utilities (water, electricity and natural gas) are either safe to use or are disconnected before they leave the site. Do not attempt to turn on utilities yourself.
Be watchful for structural damage caused by the fire. Roofs and floors may be damaged and subject to collapse. Food, beverages and medicine exposed to heat, smoke, soot and water should not be consumed. In some cases it may be necessary to board up openings to discourage trespassers. Be sure to save all receipts for any money you spend on repairs, temporary housing, food, and any other expenses incurred as a result of your fire loss. These receipts are essential for receiving reimbursements from your insurance company and are also helpful for verifying losses that can be claimed on your income tax returns.
Our team of experienced professionals will be able to help you throughout the process, and can answer any questions you may have. Call us today at 719-445-6953 in the Colorado Springs area, or fill out our online request form.
Do not throw away any damaged goods until after an inventory is made. All damages are taken into consideration in developing your insurance claim.
If it is safe to do so, try to
locate the following items:
Identification, such as driver's licenses and Social Security cards

Insurance information

Medication information

Eyeglasses, hearing aids or other prosthetic devices

Valuables, such as credit cards, bank books, cash and jewelry
There are many people/entities that should
be notified of your relocation, including:
Your insurance agent/company

Your mortgage company (also inform them of the fire)

Your family and friends

Your employer
Your child's school

Your post office

Any delivery services

Your fire and police departments

Our utility companies
Each year, more than 4,000 Americans die and more than 25,000 are injured in fires, many of which could be prevented. Direct property loss due to fires is estimated at $8.6 billion annually.

To protect yourself, it is important to understand the basic characteristics of fire. Fire spreads quickly; there is no time to gather valuables or make a phone call. In just two minutes, a fire can become life-threatening. In five minutes, a residence can be engulfed in flames.

Heat and smoke from fire can be more dangerous than the flames. Inhaling the super-hot air can sear your lungs. Fire produces poisonous gases that make you disoriented and drowsy. Instead of being awakened by a fire, you may fall into a deeper sleep. Asphyxiation is the leading cause of fire deaths, exceeding burns by a three-to-one ratio.
Colorado Springs Disaster Cleanup
Colorado Disaster Cleanup Services of Colorado Springs is one of the most respected and experienced restoration and disaster clean up contractors in the Colorado Springs, Colorado area.